Police Goes to Campus' Ajak
Mahasiswa Peduli Keselamatan
Mewarnai Operasi Zebra Pallawa 2023, Ditlantas Polda Sulawesi Selatan (Sulsel) menggelar acara 'Police Goes To Campus' yakni program peningkatan pemahaman mahasiswa dan civitas akademika dalam berlalu lintas.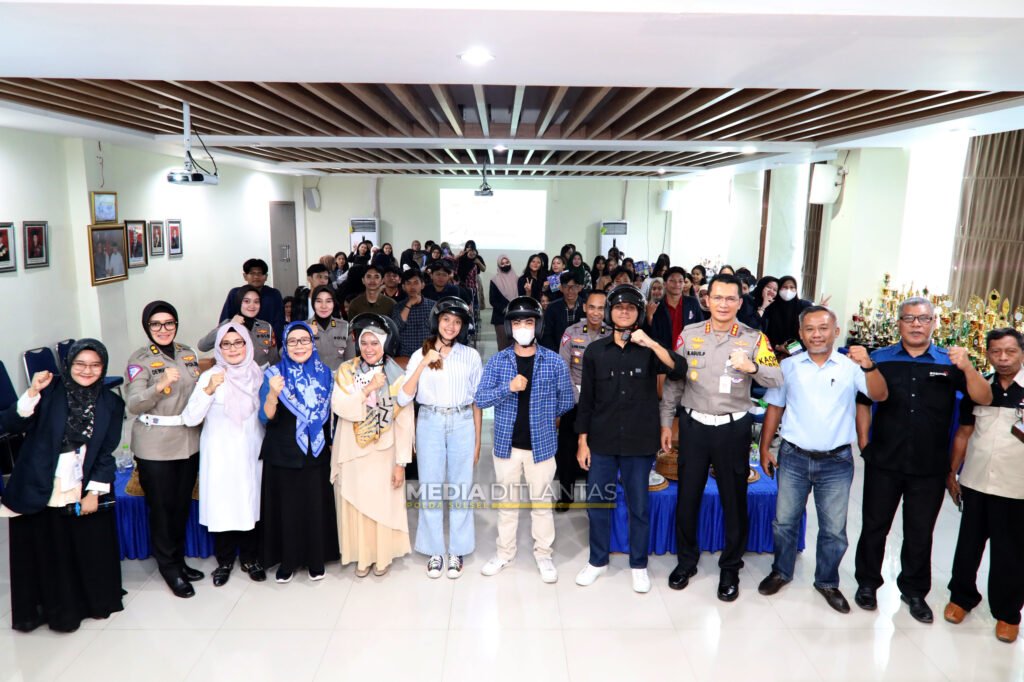 Civitas akademika, khususnya mahasiswa sebagai kalangan intelektual sangat potensial untuk menjadi pelopor dan contoh dalam keselamatan berlalu lintas di masyartakat. Oleh karena itu Ditlantas Polda Sulsel menggelar acara 'Police Goes to Campus' untuk memberikan informasi yang menyeluruh tentang program road safety atau jalan berkeselamatan dan mengajak civitas akademika untuk menjadi pelopor tertib berlalu lintas dan keselamatan di jalan.
Demikian dikemukakan Dirlantas Polda Sulsel, Kombes Pol Dr. I Made Agus Prasatya, S.IK., M.Hum kepada wartawan usai memberikan paparan kegiatan 'Police Goes to Campus' di kampus Universitas Bosowa (Unibos) Makassar Selasa, 12 September 2023. Acara yang berlangsung di gedung Senat Kemahasiswaan Unibos tersebut diikuti sekitar 150 mahasiswa.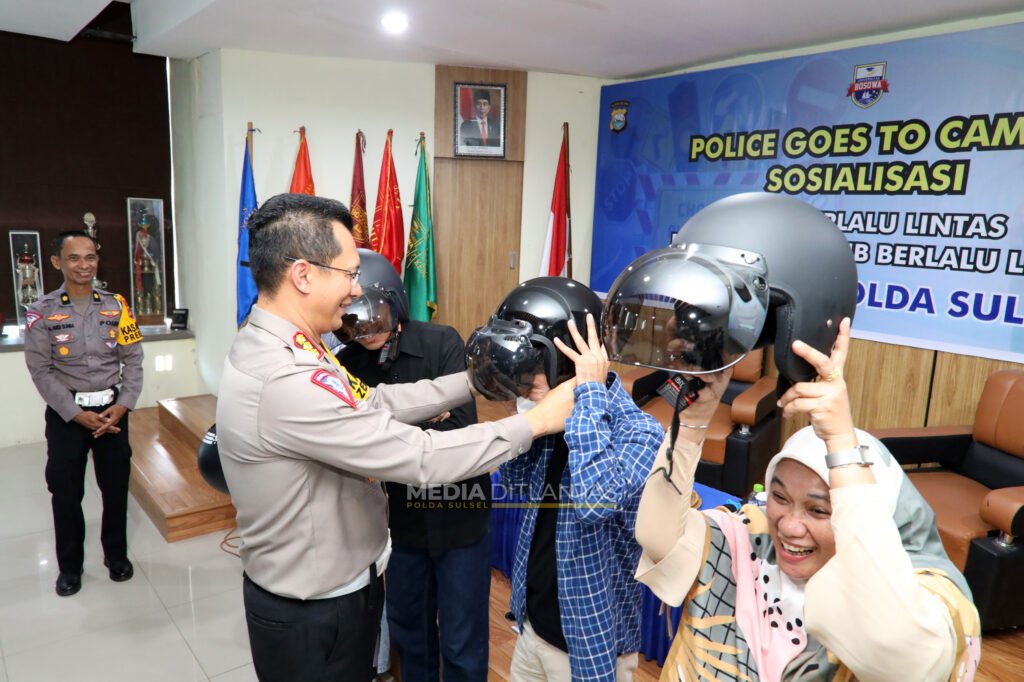 Dengan adanya kegiatan ini, ujarnya, pihaknya berharap adanya komitmen dari civitas akademika untuk menjadi agen pelopor keselamatan berlalu lintas. Juga agen perubahan, yakni upaya melakukan perbaikan mental, mengajak taat tertib berlalu lintas dalam masyarakat. Ini mengingat, mahasiswa mempunyai andil yang besar terhadap negara. Pada masa mendatang, para mahasiswa akan menjadi penerus peradaban bangsa.
Untuk itu, kami berharap adanya peran mahasiswa dalam memberikan contoh yang baik kepada masyarakat, bagaimana berlalu lintas yang tertib dan benar. Berharap dari program ini keselamatan dalam berlalu lintas akan lebih baik dan pada akhirnya bisa menekan jumlah korban kecelakaan lalu lintas (lakalantas).
"Program 'Goes to Campus' Ditlantas Polda Sulsel, merupakan salah satu strategi peningkatan edukasi dan pembinaan publik mengenai peran akademisi dalam mensosialisasikan program, khususnya taat tertib berlalu lintas", tandasnya
Perlu diketahui, 'Police Goes to Campus' adalah merupakan suatu program kegiatan pendidikan lalu lintas terhadap mahasiswa atau civitas akademika yang dilaksanakan di kampus Universitas/Perguruan Tinggi melalui metode ceramah, sosialisasi, seminar dan metode lainnya. Materi ceramah antara lain, tentang pendidikan lalu lintas, peraturan lalu lintas, tata cara berlalu lintas, dan keamanan keselamatan ketertiban serta kelancaran lalu lintas (Kamseltibcarlantas).
from Blogger Polri https://ift.tt/a6n3I1p
via IFTTT